Home
> Instructions for authors
Instructions for Authors
Presentation Guidelines
Oral Presentations
20 minutes for oral presentations will include:
A brief introduction of the speaker by Session Chair
The body of your presentation, maximum 15 minutes
A brief question-and-answer period
A setting minute to change over to the next presenter
New Each presentation room has a Windows PC with a PowerPoint Viewer and an Adobe Reader. You may also use your own Windows PC or Macintosh via a VGA (DSUB 15-pin) connector.
Poster Presentations
Panel boards for each poster will be provided on Wednesday morning, Oct 3, for Poster Session. The board is 1.8 meters high and 1.2 meters wide, A0 size (1.190m x 0.841m) poster is available. Materials for attaching the poster, e.g. pushpins, will be provided at the poster session room.
Working Demos are appreciated: We prepared 15 poster booth (out of 26) with an AC outlet (100V-80W per booth). The type of the outlet is JIS C 8303 class II (compatible with NEMA 1-15). You had better to bring n-way socket adaptor if you need two or more AC outlets. Contact us at support@ieee-gcce.org if you would like to previously book your booth with AC outlets.
New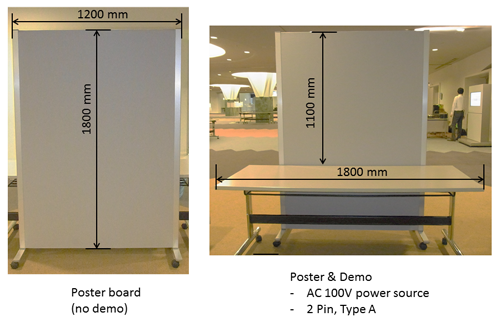 ---
Short Paper Submission for peer-review
Authors are required to submit a 2-page Short Paper including tables, figures, and references for each paper to EDAS conference manager system by June 4, 2012.
Please write your paper using Microsoft Word or LaTeX templates for IEEE conference proceedings on an A4 page without author's biography, and submit electrically in PDF format. You can find the template on the IEEE website.
Authors can choose some topics and keywords for each paper when writing for the short-paper submission in the EDAS.
Submitted short papers will be peer-reviewed by the technical committee based on originality, significance, technical soundness, and clarity of exposition.
Instructions to Accepted Authors
Please note that the accepted papers which satisfy all the following conditions by 14:59, August 23, 2012 (UTC) can make presentations at GCCE2012 and be published in the official Proceedings.
Final Camera-ready Manuscript or Final Digest Paper has been submitted.


Again, make sure that you are using A4-sized, genuine IEEE template. Many letter-sized manuscripts have been submitted for the initial review, but they are unacceptable for Final Camera-ready Manuscript or Final Digest Paper.

IEEE Copyright Form has been submitted.
At least one of the authors has completed the payment of the full registration fee.
GCCE2012 will check the registration status and who are the accepted authors using the submitted final manuscripts and the paper configuration on EDAS. Please confirm your personal profile on the EDAS.
Final Camera-ready Manuscript
Authors are required to submit a Final Camera-ready Manuscript (up to 5 pages) to EDAS.
In this case, there will be no option for a Journal publication in the future.
Final Digest Paper
If you also intend to submit a full paper to the Transactions on Consumer Electronics or any of the Associated Journals, please submit Final Digest Paper (limited to 2 pages) to EDAS.
IMPORTANT: Note that acceptance to the conference does not guarantee acceptance to the Transactions. Your Transaction Paper (full-length) should be directly submitted to IEEE.
Attention
If you are afraid whether your PDF software is IEEE-compatible, you can use PDF eXpress to make your PDF file (the activation code for this conference is "gcce12x").
All accepted and presented papers and posters will appear in IEEE Xplore Digital Library.
Please note that IEEE reserves the right to exclude a paper from distribution after the conference (e.g., removal from IEEE Xplore) if the paper is not presented at the conference.
Author's Registration
When completing your registration, you would get a confirmation e-mail automatically sent from the on-line registration system (JTB), and you could find your 6-digit Inquiry No. (nnnnnn) in the e-mail entitled "[IEEE GCCE2012] Registration/Application Confirmation for Registration". Please be sure to input the Inquiry No. into the Personal Notes in EDAS.
Additional Paper Fee
This is only for the accepted authors who make at least one full registration.
If you are the author of more than two accepted papers, you can register the additional one paper by selecting this option.
Please note the following;
The number for additional paper is limited with only one for each full registration.
This additional fee DOES NOT include any participation expenses for one person.
This additional fee is available by the Early-bird deadline.
In other words if a single author submits 3 papers, the first and third paper require full registration fees while the second paper requires the additional paper fee.
For more detail, please visit Registration Page.
IEEE Copyright Form
The authors need to submit the IEEE Copyright Form via EDAS.